Christchurch Arts Centre
The Arts Centre is an easy five minute walk from Cathedral Square and is located directly across from the main entrance to Christchurch Botanic gardens. You can also catch the tram, which will pick you up and drop you off at the Arts Centre on Worcester Boulevard as it loops around the central city's attractions.

One of the best and most extensive examples of Gothic Revival architecture in the country, the former University of Canterbury now houses a complex of shops, studios and art galleries. Public art installations, regular arts and crafts workshops and street performers create a buzz and the chance for discovery through every arch and alleyway.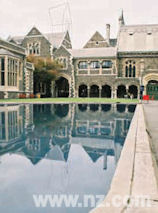 Old-English style quads create opportunities to pause and admire the Arts Centre's architecture but are often transformed into a spectacle of free entertainment, notably for the World Buskers Festival which attracts thousands to the centre and to the central city during January each year.
Each weekend you'll find a vibrant and eclectic mix of fashion, giftware and music at the extensive Arts Centre outdoor market; an excellent way of sourcing well priced New Zealand products, and a chance to chat with local artists and craftspeople.
The Court Theatre, on Worcester Boulevard, offers professional theatre, often featuring the work of New Zealand playwrights in the intimate and stylish setting of the Arts Centre.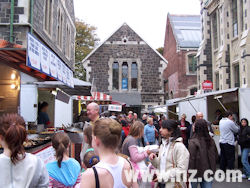 There's little chance of going hungry at the Arts Centre. During the week two cafes on Worcester Boulevard and one restaurant within the complex offer relaxed dining options surrounded by stunning Neo-Gothic architecture. The Fudge Cottage should satisfy any sweet-tooth. On the weekends, ethnic food stalls offer up wonderful aromas and fast food to bustling customers - as many locals as visitors find their way here.
'The Dux' - as it's known to locals, and quickly a favourite with visitors, is found on the corner of Hereford Street and Montreal. Dux-de-Lux borders the Arts Centre and is renowned for its award winning on-site brewed beers. Try a Ginger Tom on a hot day - approach with caution. Vegetarian and seafood meals are offered at affordable prices in their bistro. Many well known local bands have launched their sound here after dark, with live music four nights a week.
Tour Christchurch

Arts Centre of Christchurch

Tour Christchurch Area